[ad_1]
Past Tense is our latest series of articles in which GSMArena veterans take you on a nostalgia-infused ride through the years.
Experience first hand how the industry evolved and how it shaped us, one phone at a time.
How this tech journalist started his way
Hi, my name is Kaloyan, 32y old, and I've been with GSMArena for 10 years and counting. Three years ago, I shared my phone history with our readers in a rather dry, list-like manner. Now that we're running the Past Tense featurette, I've decided to retell my story but with a shifted focus.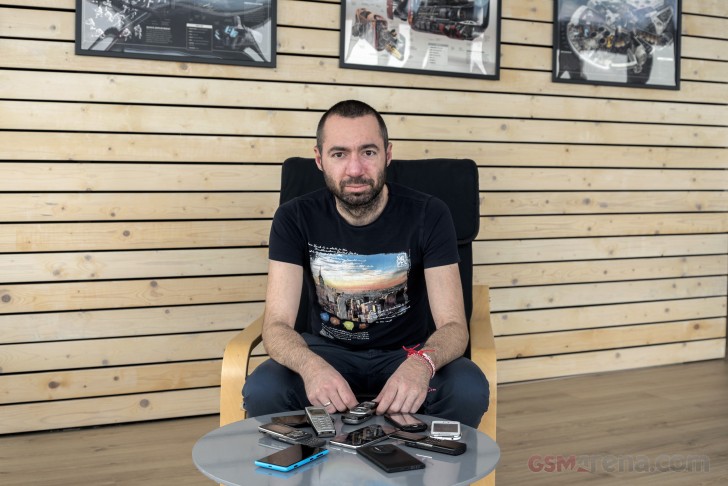 So, how did I choose my first mobile phone?
I didn't. I was hooked on the almighty Nokia 3310 and playing the glorious Snake, but when you are a 15-year old kid, your parents decide a lot of things for you. That's how I ended up with the Nokia 3210 - also known as the first device to be added to the GSMArena.com phone database. Some might say it was a divine intervention, I say pure coincidence.
Having a personal mobile phone was a big thing and I loved my Nokia 3210. It left a big mark and will have a special place in my heart forever.
It also kicked off that perpetual hunger for new gadgets.
Your first is one to remember for sure, but soon or later you have to move on. The Nokia was a brick, so my first goal was to find something smaller, not more functional. And that was one of the best phones I have had to this very day - the Sony J70 and its magic Jog wheel.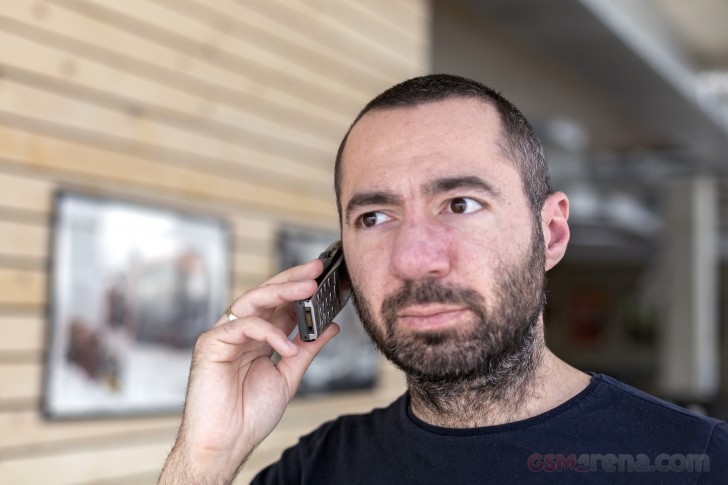 It's been now 15+ years since that Sony J70 came into my possession and I still think very fondly of that iconic jog dial. It was one of the most thoughtful innovations back then, unmatched for a long time until BlackBerry finally dethroned it.
The J70 was a nice upgrade, but sooner or later one has to catch up with the technology. Samsung T100 was one of the first phones with a color display, and that was my next target. Not because it was a clamshell, but because it had a cutting-edge tech in it.
Fast-forward one year later, and there was another revolution happening. Mobile cameras. Everybody was "wow, just wow!". A quick research helped me lean towards the Samsung E715 - a small clamshell, with a VGA camera and a flash! From cutting-edge to even more cutting-edge! And, I kid you not, I have a few albums with prints from that VGA camera. Those were fun times (but low on resolution)!
Nokia 3210 • Sony CMD J70 • Samsung T100 • Samsung E715
Having a camera on a mobile phone was something way too big to wrap my head around at first. It was like I was living in the future earlier than I have anticipated. I know it sounds ridiculous and naive from today's standpoint, but back then it was a huge deal.
Once I overcame my awe, I wanted more. A better camera. For day and night occasions. And suddenly the technology was trailing behind my expectations. The never-ending search for the best cameraphone had begun.
No other feature mattered to me but the camera, so I went through some very questionable choices and design abominations just for the sake of trying the imaging capabilities. The first cameraphone choices were as expected - Samsung D500. Samsung D600. Sony Ericsson K800. Sony Ericsson K850.
Samsung D500 • Samsung D600 • Sony Ericsson K800 • Sony Ericsson K850
The K800 was probably the most emblematic among those, as it had a xenon flash and was my travel companion on many occasions. Believe it or not, but I have gigabytes of 3MP pictures shot on the K800. Gigabytes!
Here are some of those:
Sony Ericsson K800 3MP camera samples
Then I bought the Nokia N82. This is the one I will always remember as the perfect phone in my life for quite some time. It had everything - compact size, a high-res camera, a xenon flash, a snappy processor. The N82 had everything for me and even though I did bought into a few upgrades, I eventually returned to the Nokia N82.
Nokia N82 5MP camera samples
The only thing I regret about the N82 is that its black version was in limited numbers and had eluded me until it was pointless to own.
Nokia N82 • Nokia N93i • Nokia N95 • Nokia N82
I really tried giving LG Viewty and LG Arena a chance, but buggy software and disappointing camera experience were huge deal breakers and those two were some very quick sells.
The same goes for my first and last Windows Mobile smartphone - the Sony Ericsson Xperia X1. It had so many hardware faults, including the cracking chassis, that I can't talk about this one without using some unpleasant words. The X1 review was my first for GSMArena, and it almost made me hate the smartphones, which were on the brink of changing the world forever.
LG KU990 Viewty • LG KM900 Arena • Sony Ericsson Xperia X1
And for the first time, I decided to opt for user experience before camera skills and get the iPhone 3GS. The capacitive screen was so different from the resistive ones that Apple deserves to be praised if only for pushing this thing before anything else.
If you have never used a resistive touchscreen, you can't imagine the struggle with styluses, knuckles, and nails. That's the reason the iPhone felt like a giant leap forward! It was the screen that Apple did get right, as it led to smoother experience and blazing-fast response, and that's how the iPhones suddenly became the next best thing.
But the first iPhones lacked in the camera department big time, so I had to get every new iPhone right away.
Apple iPhone 3GS • Apple iPhone 4 • Apple iPhone 4s • Apple iPhone 5
The iPhones were one of the most compact smartphones around, and this allowed me to own a second smartphone and carry it with me. I still strived towards the better mobile camera, and for this very reason I often owned another smartphone next to my iPhone.
Samsung I9300 Galaxy S III • Sony Xperia Z • Nokia Lumia 1020 • Samsung Galaxy Note 3
As you can imagine the iPhones have finally caught up with the competition as far as the camera matters, so after a while, it was just an iPhone and there was no need for anything else.
Apple iPhone 6 • Apple iPhone 6s Plus • Apple iPhone SE • Apple iPhone 7
And now, it's the iPhone X. I like this one less than any other iPhone to come before it because of the controversial software gestures implemented to replace the home button. The notch treatment is far from ideal, too, and the telephoto camera limitations, despite having OIS, are unforgivable. But hey, I am a tech junkie and it's the latest tech you can get, so please don't judge me for sticking with it. At least, I can acknowledge what's wrong with it, and you won't hear me recommend it to anyone I know. It's almost like the first iPhone - so beautiful and yet still in its infancy in so many ways.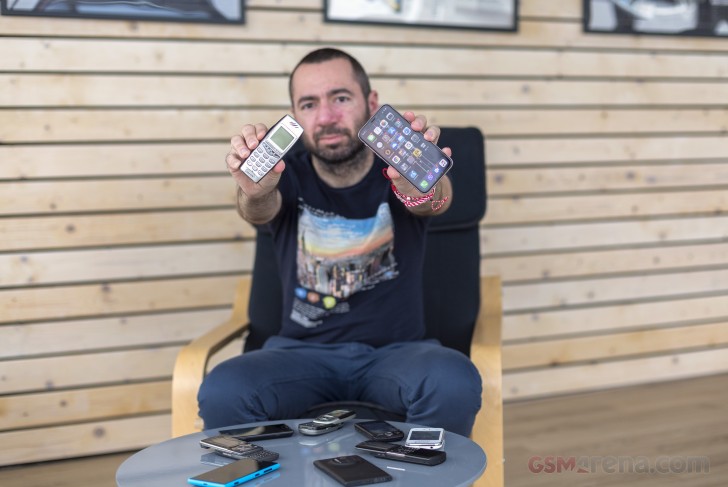 So, the phones to leave the biggest mark in my life so far are the Nokia 3210 as being my first, the Sony J70 for introducing a great innovation, the Samsung E715 as my first mobile camera, the Nokia N82 as the best companion through my college years, and the iPhone as making the user experience I needed. If I had to pick an iPhone I remember most dearly - that would have to be the iPhone 5s for being the first iPhone to cover all bases for me without any regrets.
And before we call it a day, I just want to acknowledge a few honorable mentions. I owned those for some short periods of time and while some of them being some questionable/hipster choices, I still appreciate their coolness.
Nokia E90 • Samsung M7500 Emporio Armani • Nokia 108 Dual SIM • Motorola RAZR V3
Having experienced so many mobile phones I certainly know what to expect and what I look for in a device. I am not that trigger-happy buyer I once were, but I still crave for that cutting-edge, early adopter excitement as much as I did ten years ago.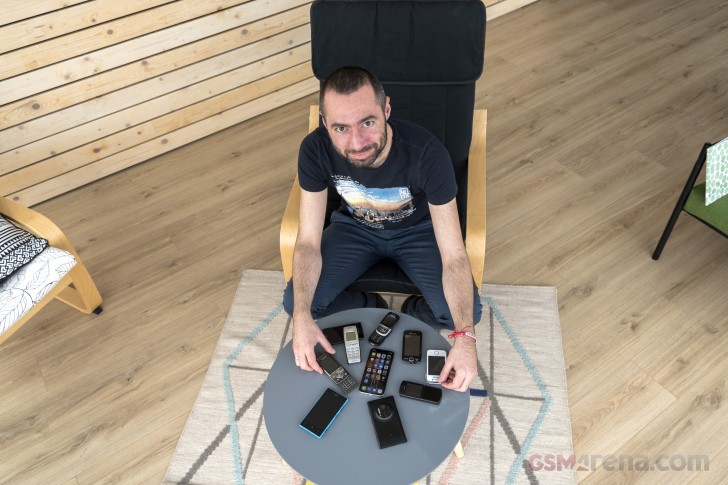 The mobile revolution is far from over, sure, but if you ask me, the rapid growth has ended, and there is a plateau ahead of us. Now, it's a fast-paced race happening on a slowly shifting mobile landscape. And while I am waiting for the next game changer (please, let it be batteries!), I'd like to settle for something and for once stop wasting money on incremental upgrades.
[ad_2]